August 4, 2022 4:58 pm
Monsoon season is in full swing and it's raining new shows over here at the Rebel! ☂️ We've got LUNA LUNA, REAL FRIENDS & WITH CONFIDENCE, BRASS AGAINST, MAGDALENA BAY, DEAD POET SOCIETY and more heading your way this fall.

Have you heard? HEARTS ON FIRE is bringing THE ALL AMERICAN REJECTS, BOYS LIKE GIRLS, MAYDAY PARADE and more to Phoenix in September – and in a couple weeks we're hosting a BATTLE OF THE BANDS to decide who will open up the show! Learn more at HeartsOnFireAZ.com.

We're also giving away free concert tickets at SCREAMO NIGHT next weekend – to shows like HEARTS ON FIRE, MOM JEANS, JOYCE MANOR and more. Visit @xEmoNightPhx on Instagram for the deets. 
Check it all out below.
---
---
The following local bands DIVA BLEACH, FIRE BY NIGHT, LIFE ON STANDBY, SORRY X, WINTERHAVEN, and YOUNG MISERY will fight for the opening slot on the Hearts On Fire Main Stage 🤘 Get your tickets to LIGHT A FIRE: BATTLE OF THE BANDS at the Rebel Lounge on August 13th!
---
JUST ANNOUNCED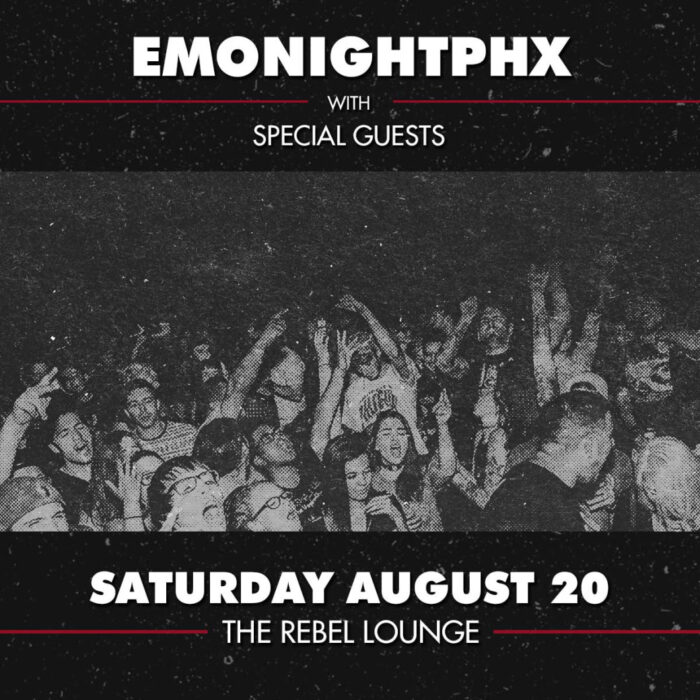 ---
---
We're giving away pairs of tickets to upcoming shows at SCREAMO NIGHT on Saturday, 8/6.
9/27 – LIL LOTUS / CEMETERY SUN
---
---
---
JUST ANNOUNCED
9/7 – AGNOSTIC FRONT / SICK OF IT ALL
10/26 – THE LEGENDARY PINK DOTS