March 18, 2022 6:00 pm
Critically acclaimed metal band Baroness is finally back, gracing The Rebel Lounge stage on Monday, March 28th.
Known for their reverence for the bond between fan and artist, Your Baroness Tour is giving fans the ultimate opportunity: creating the set list themselves. Everyone who buys a ticket is given a link to cast their vote for the top 10 songs – out of Baroness' entire catalogue – they want to hear.
The deadline is 8 days prior to the performance date, making this weekend your last chance to cast your vote – you don't want to miss out on this!
If you haven't already bought your tickets, there's still a chance to grab them here.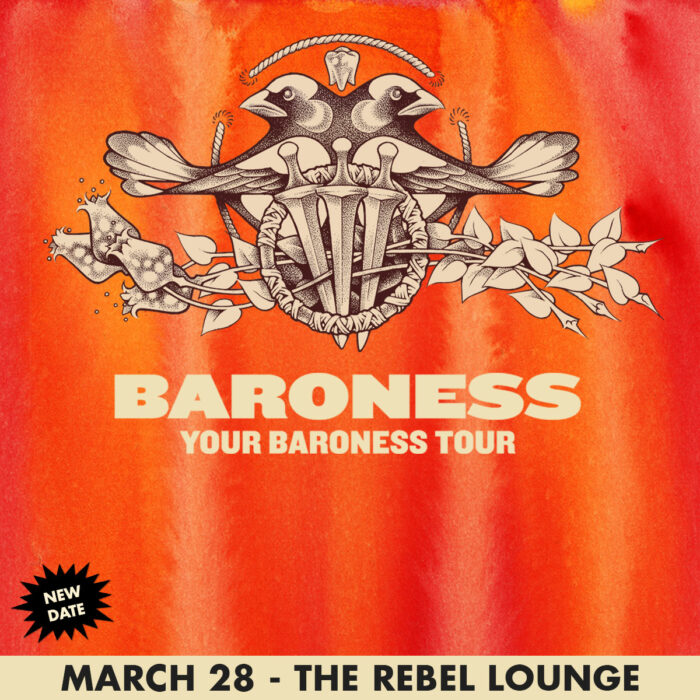 "I cannot remember any moment in the history of this band where we've been more excited to tour than we are today," said frontman and guitarist John Dyer Baizley. "In many ways, this upcoming tour feels similar the very first Baroness tour in 2003: we don't know what to expect, we're through sitting on the sidelines, and we can't wait to climb onstage."
"During the past two years," he continued, "we've tried to keep ourselves as busy as possible: writing, recording and rehearsing insofar as the pandemic would allow. Throughout that time, one fact has become increasingly clear… we are built as a live/touring band. The most powerful and important aspects of music reveal themselves only through shared experience. Baroness' music is designed to be shared; our audience has always been the final and most important member of the band. Quite simply, it doesn't feel right without YOU!"