December 22, 2021 6:08 pm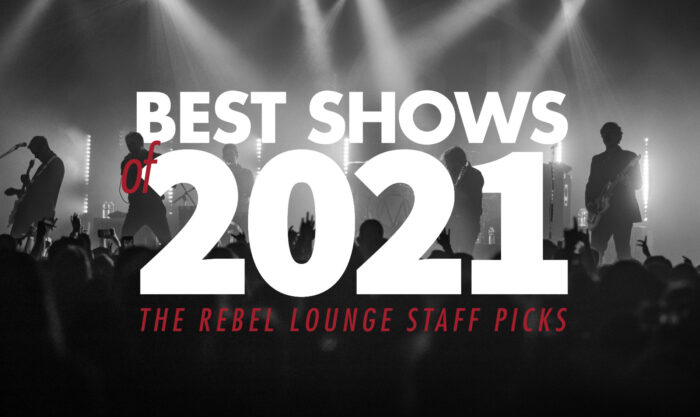 Steve, owner
"EVERY SHOW THAT PLAYED IN 2021! After a year with no shows it was just great to see bands on stage in 2021. Something we all should never take for granted again. Thanks to #SaveOurStages and everyone who supported it, live music was able to come back."
June 20 – Foo Fighters – Madison Square Garden
I got to go out and see the Foo Fighters open back up Madison Square Garden. Was the first BIG show I saw after Covid. When they went on the energy in the room was unreal. So much pent up excitement. No one has been more supportive of NIVA and #SaveOurStages than Dave Grohl.
July 16 – Breakup Shoes – The Rebel Lounge
Was one of the first sold out shows we had back at Rebel Lounge after over a year with out one. Was so great to see the room at capacity again!
August 3 – The Maine – Crescent Ballroom
Lots of firsts on this list. This was the first real show back in the Ballroom at Crescent after Covid. What a great night. Who better to open it back up than The Maine.
September 3 – Playboy Manbaby – The Van Buren
My favorite part of any artists carer is watching a local jump to that next level. Seeing Playboy Manbaby headline at The Van Buren was one of those moments.
September 15 – The Bled – Club Congress
One of the first local bands I ever worked with who then went on to "make it" national was the Bled. Was excited to see them playing a few shows after a 10 year break. So rad. And the new outdoor set up at Club Congress is a great place to see any show.
October 13 – The Front Bottoms & Sydney Sprague – First Avenue
Finally made it out to Minnesota to see the Legendary First Ave. Was great to see The Front Bottoms outside of Phoenix. Especially great to surprise Sydney on her first big tour.
October 30 – The 36th Annual Rock & Roll Hall of Fame Induction Ceremony – Rocket Mortgage Fieldhouse
Add to the list of "can't believe the last year," a group of us from NIVA got to go to Cleveland and see this year's Induction Ceremony. Second time I saw the Foo Fighters in an arena this year.
October 14 – Limbeck – Club Congress
The first touring band I ever booked 20 years ago and still some of my best friends. Love these boys. So rad to see them back in Club Congress.
December 11 – Weezer – Mesa Amphitheater
WOW! Largest show the team at Psyko Steve Presents has booked to date. Such a great day. Weezer was incredible. Was rad to get The Regrettes and Usphal on the show. Thanks to Alt-AZ for trusting us with it. Growing up in Mesa was a privilege to finally book a show into Mesa Amphitheater, and a Sold Out one at that.
Sara, box office
September 15 – Perfume Genius – Crescent Ballroom
The first time I saw Perfume Genius, they were opening for David Byrne's American Utopia tour. I didn't know them at the time, but became a lifelong fan afterwards. Contrary to the first time I saw them in a large, sit-down venue, seeing them in the pit at Crescent Ballroom was a dream come true.
September 29 – Vundabar – Terragram Ballroom
Vundabar is my all time favorite band, and when I found out they weren't coming to Arizona on their 2021 tour, I had to make a trip to LA. They were so great and seeing them in such a large venue was surreal.
November 12 – Remo Drive – Rebel Lounge
I almost didn't go to this show because I have already seen Remo live before, but I'm so glad I did. Erik Paulson's voice was so beautiful that their song "Ezra and Marla" got me a little teary.
November 18 – Preoccupations & Metz – Crescent Ballroom
This was the concert I was thinking about all year. I bought tickets back in March, so when the date arrived I was beyond excited. Both Preoccupations and Metz were great live and I found them so fascinating to watch. At one point, I caught myself staring at Preoccupations' guitarist— who was not only playing leads, but he also had a tambourine in one hand and was playing electronic drums with one of his feet.
December 11 – Weezer – Mesa Amphitheater
I grew up listening to Weezer with my mom — she's a huge fan. So, getting to see them live with her was a dream come true. They were so good and played all of our favorite tunes!
Jen, bartender
"Didn't get to see as many shows as I would have like to this year. But these ones I did see were my top favorites. Happy to see venues opening back up. It's been amazing to see people doing what they love the most."

August 20 – Lost Dog Street Band – Crescent Ballroom
October 1 – Snailmate – Rebel Lounge
November 3 – Kikagaku Moyo – Rebel Lounge
November 20 – Red City Radio – Rebel Lounge
November 23 – Anti Flag – Rebel Lounge
Phil, box office
December 3 – Mom Jeans – Crescent Ballroom
I've seen Mom Jeans several times and each time they're so good! What really made this show was Origami Angel and Save Face – two of my new favorite bands. Origami shredded with their rad licks and catchy lyrics, and Save Face absolutely rocked. Will definitely be catching these bands next time they come through.
August 11 – Movements – Crescent Ballroom
Movements is one of my favorite bands, and one of my best friends always make it a point to see them when they come through. After not seeing them for so long, I was truly impressed with their new music. Snagged a shirt and a flag (their signature merch item) and had an awesome time with great friends and great music. They killed it!
June 12 – Sundressed – The Rebel Lounge
It was only right that the first show that I'd go see after a crazy year would be hanging with the Sunny D boys. All of the bands in the bill – along with the crowd – celebrated being back and it felt so good to be in a pit again yelling lyrics to my favorite songs at the top of my lungs. 
September 30 – The Front Bottoms – The Van Buren
I had never seen the Front Bottoms or Oso Oso live before, and getting to see them was a long time coming. Catching Sydney Sprague on a large stage was also such a treat!
August 27 – Hella Mega Tour with Weezer, Fall Out Boy and Green Day – Oracle Park
A vacation in San Fran to see some bands I grew up on? Hell Yeah! This was the biggest concert that I have ever attended. All 3 bands played so many of their hits – and the whole production was so sick to see. This might've been a once in a lifetime experience. 
Bobby, talent buyer
8/3 – The Maine – Crescent Ballroom
The Return of live music at Crescent Ballroom + The Maine + Crescent Burrito = Top Notch Concert.
8/21 – The Wrecks – Crescent Ballroom
I've been friends / have worked with The Wrecks since the band formed and seeing them play to a sold-out crowd screaming their songs back will never old.
9/23 – Oxymorrons – Rebel Lounge
Oxymorrons were opening for Anti- Flag and during their sound check I instantly gravitated to their music, then by the time they took the stage for their set I was HOOKED. The songs, the message and pure energy of their set was jaw dropping. This band is going to be massive.
11/3 – Grabbitz – Tempe Marketplace
I love the free shows at Tempe Marketplace. The crowd Is always a blast, the bands are rad as hell, I met some great people, and Grabbitz killed it for his first show back. I'm excited to see him return to Rebel next month!
12/11- Weezer – Mesa Amphitheatre
Do I really need to explain why Weezer was such a great show? It made up for them releasing The Red Album.
Jeff, talent buyer
May 29 – Twin Ponies – The Rebel Lounge
This show was one of the first times I was in a room with people outside my close friends and family since covid… what a treat it was to get to see Twin Ponies at home base, as well as tons of other homies that night on stage and in attendance.
September 18 – Tame Impala – Gila River Arena
This fall was the first time in nearly a decade I have seen Tame Impala – I didn't know what to expect considering the size of the venue they were playing here, but I was totally blown away by their show. The lights, visuals and other production was top notch, and made for an incredible show.
October 27 – Dr. Dog – The Van Buren
I was late to the game on Dr. Dog, but have thoroughly enjoyed the live experiences I have had over the years – at Brooklyn Steel in NY, Innings last year in Tempe… so I had to see their "farewell tour" when it came to town. They opened with a heartbreaker hit, and delivered exclusively bangers til the end of the night. I hope they don't take their retirement from touring too seriously, and that we're able to see them again sooner rather than later…
November 18 – METZ / Preoccupations – Crescent Ballroom
What a killer coheadline package! Both METZ and Preoccupations are such great (and extremely loud) live bands. I didn't see a whole lot of shows this year, and this show was a great one to remind me how impactful it is to get the actual live experience with bands you really appreciate.
November 29 – TV Girl – The Van Buren
How cool to see TV Girl leveling up in Phoenix over the last few years… I was hooked the first time I saw them perform at The Trunk Space in 2017, and it's exciting to see them playing Van Buren sized venues just a few years later. Can't wait to see what's next for this band.
December 11 – Weezer – Mesa Amphitheatre
Okay, okay, so I've got six shows on my Top 5 list… but how could I not include Weezer? I'm proud of our Psyko Steve team for pulling off the biggest show we have produced to date, and I had a blast seeing Weezer outdoors, especially with awesome support from The Regrettes and Upsahl.
McKenna, graphic designer
September 3 – Playboy Manbaby – The Van Buren
October 17 – Chloe Moriondo – The Rebel Lounge
October 29 – Del Water Gap – The Van Buren
November 23 – Thundercat – The Van Buren
December 11 – Weezer – Mesa Amphitheatre
Gren, production manager
November 15 – Mary Lattimore – Trunk Space
This show was held in the Sanctuary of the church that houses the Trunk Space and it was the absolutely best place for these performers. A night of experimental ambient music via guitar, accordion, and harp with spectacular live visuals accompanying all of the performances.
October 9 – Holy Fawn – Rebel Lounge
It was great to see my favorite locals HF return to Rebel. It had been too long.
October 31 – Dan Deacon – MeowWolf – Santa Fe
Dan Deacon at Crescent is cool, but this setting for this weird, fun act was superb.
July 16 – Breakup Shoes – Rebel Lounge
My other favorite locals with some great support from Pariah Pete and Fearofmakingout.
Camryn, administrative assistant
September 4 – Harry Styles – MGM Grand Arena
This was my first show back after COVID and it meant a lot to me since I've been a fan for so long. "Falling" and "Treat People With Kindness" were the highlights of the show. The opener, Jenny Lewis, was also fantastic!
September 8 – Styx – Celebrity Theatre
This show was cool because I got to sit in the owner's box with my mom. She loves Styx, so it was fun seeing her hear some of her favorite songs live!
October 21 – Machine Gun Kelly – Mesa Amphitheatre
This was one of the most wild shows I've ever been to. I went with a big group of friends and we stood at the side stage barricade, so we had a great view!
November 27 – BTS – SoFi Stadium
This show was huge and it was really special to see BTS's first show back after 2 years. The best part was the light sticks that the audience had that synced with the music and spelled out different things.
December 11 – Weezer – Mesa Amphitheatre
This was my first show as a Psyko Steve employee, so it was super special! It was laidback, my friend and I just sat on the lawn and tried to stay warm lol!
Shea, ticketing / box office lead
June 4 – Tycho – Charles Krug Winery
Arizona was pretty much in full swing by early June, but California certainly wasn't, so getting the opportunity to see Tycho at a winery in Napa was something I couldn't pass up. Everyone was socially distanced for the general show, we got to drink good wine and eat fresh ceviche, and Tycho took the time to greet every single person who wanted to afterwards. All good things.
September 6 – Terror – The Rebel Lounge
Hardcore is the genre that got me into working in music and I'm always itching to see more of it at Rebel, so having Terror put on a show at my home venue meant a lot. Great guys, top tier energy, 10/10 would mosh again.
September 18 – Tame Impala – Gila River Arena
I won't lie to you guys – I had to leave the show a little bit early, but every second I got there was absolutely incredible. I'm not the kind of person that goes to arena shows, so that alone had me unsure of what to expect and everything about it blew me away. It was a concert, sure, but it was also an entire experience. Highly recommend seeing them if you get the chance.
October 15 – Hellogoodbye – The Rebel Lounge
Talk about a nostalgia band! I remember being about 14, scrolling through Tumblr, listening to Baby It's Fact and daydreaming about a quirky Portlandia-esque romance of my own. I honestly forgot how much I used to listen to them until they started playing some older songs and I realized I knew every word. Forrest was a sweetheart and was super engaging with the crowd, which is always so much fun to watch!
November 28 – Citizen – Crescent Ballroom
I've been listening to Citizen since I was a teenager. Not to bring up Tumblr again, but I still remember The Night I Drove Alone popping up on my dashboard and changing my entire angst-filled worldview for a year or so. I've had ample opportunity, but somehow never actually seen them live, so this was a must. They played all the bangers and ended the night with some of their earliest hits.
Micah, promoter rep
November 20 – Slow Pulp – Valley Bar
Was stoked to work this show but after seeing them live definitely gonna try and get the next one off so i can attend as a fan
November 3 – Kikagaku Moyo – The Rebel Lounge
Favorite Rebel show to date, been hearing about the last one for years so i was glad to witness
December 4 – Kacy Hill – The Rebel Lounge
I was introduced to her music while working the show and was instantly a fan of her vocals and caught off guard by the production in the best way
October 25 – Dead and Co with John Mayer – Ak-Chin Pavilion
Lived up to the hype and history of all the musicians involved, and definitely crossed off the bucket list of shows to see.